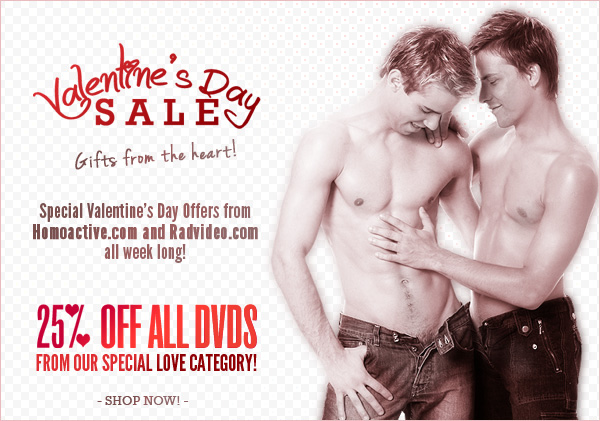 Dear Affiliates,
We would like to inform you of our Valentine's Day event that will start this Friday, February 10 2012, on both our online stores: Homoactive.com and Radvideo.com!
Special Valentine's Day offer from Homoactive.com & Radvideo.com: Take advantage of our 25% discount on top quality movies featured in our "Love" category:
http://www.homoactive.com/en_UK/dvd/V12_v12.cat
http://www.radvideo.com/r/en_US/dvd/V12_v12.cat
We have added banners supporting this event in Homoactive.cash – Click here for the entire list (for both Homoactive.com and Radvideo.com).
For special artwork or customized banners, feel free to contact us at any time before and during the sale event.
We would also like to remind you of the Free DVD Weekend event active on both retail stores! 25% OFF Selected DVDs + a Free DVD with every order from the Free DVD Category is a fantastic weekend offer that will guarantee loads of joins and rebills!
Be quick, the Valentine's Day Special Offer expires Friday, February 17th!
Best regards,
Homoactivecash